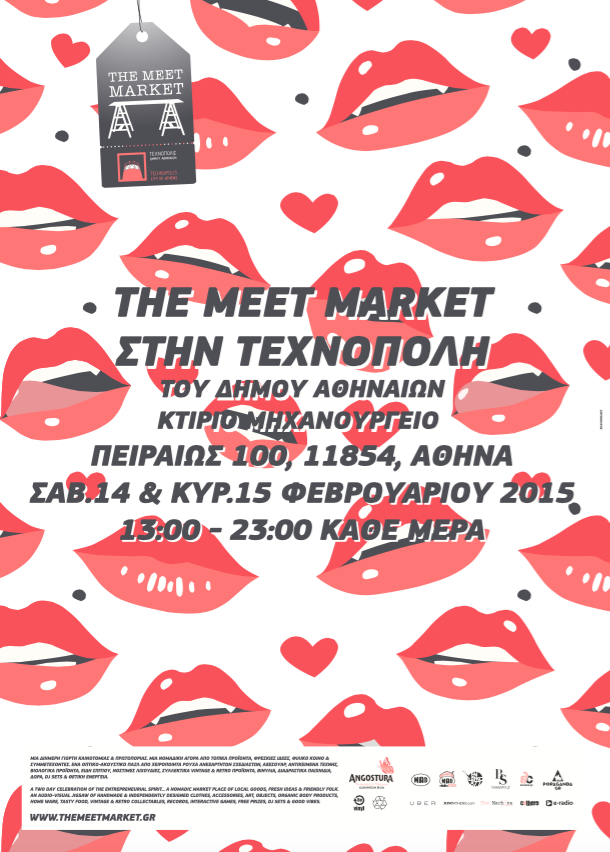 Join us on this month's Meet Market and claim your awesome Vinylize Wall Deco stickers
—————————————————————————————————————————
The Meet Market – «Technopolis» City of Athens
Μηχανουργείο Hall & Outdoor Yard
Saturday 14 & Sunday 15, February 2015
13:00 – 23:00 each day
Peiraios 100, Gazi 11854
We are back this February, at our classic homely venue of «Technopolis», both inside and outside, with over 120 stalls!  Come join us for Meet Market #69, which also happens to fall on Valentine's Day, for a super sensual celebration of the entrepreneurial spirit.  As always, we will have a non-stop dj lineup to keep our booties shaking, and our interactive game at the central tameio, for all to come and win free prizes.
Whether you're single or divorced, whether you've just broken up or you're falling in love, whether you're married with children (in fact, if you are, bring your kids for our interactive children's games with the "Firefly Team", "Babyfeat" & "Panigyraki" through the weekend)!…whatever your status, theres something for everyone in this February's love fest of creativity.
ONE LOVE.
The Meet Market: A 2-day celebration of the entrepreneurial spirit… A nomadic market place of local goods, fresh ideas and friendly folk. An audio-visual jigsaw of handmade & independently designed clothes, accessories, art, objects, organic body products, home ware, tasty food, vintage & retro collectables, records, interactive games, free prizes, dj sets and good vibes.
For more info please visit:
www.themeetmarket.gr